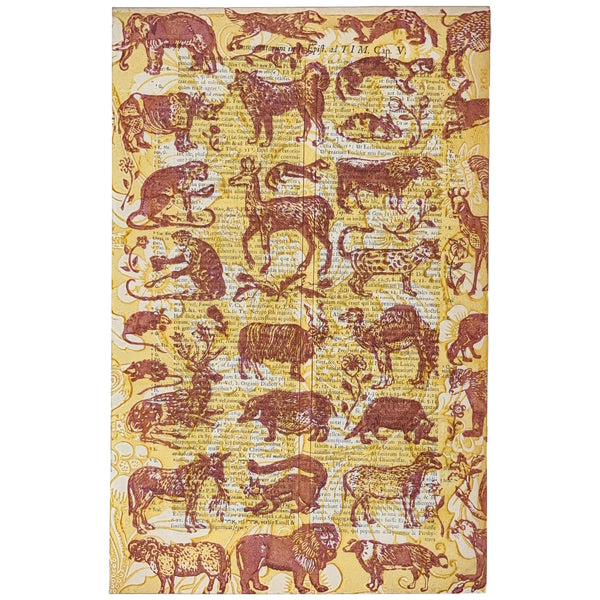 ALPS: Bewick's Animals on Yellow
A menagerie printed over a floral background.
Suitable for bookbinding, box making, picture framing, furniture decoration and the general paper crafts.
About: This print is heavily influenced by Thomas Bewick's illustrated animals.
Thomas Bewick (c. 11 August 1753 – 8 November 1828) was an English wood-engraver, natural history author and natural history illustrator. Early in his career he took on all kinds of work such as engraving cutlery, making the wood blocks for advertisements, and illustrating children's books. He gradually turned to illustrating, writing and publishing his own books, gaining an adult audience for the fine illustrations in A History of Quadrupeds.
Print: Two-colour lino relief print.
Relief printing is where a printing block or plate has ink applied to its non-recessed surface which is brought into contact with paper. When pressure is applied, the non-recessed surface will leave ink on the paper, whereas the recessed areas will not. 
Bewicks's Animals lino print on a handmade journal
Print Blocks: No.18 & No.tba (background) hand carved lino. 
Size: 15¾ x 10 inches, 400 x 255 mm (approx)
Paper: Linen rag. Made on antique printed paper from the book Synopsis Criticorum & aliorum, published in the 1660s.
Published: January 2023
Qty Available At Publication: 6
Made By: J&J Jeffery
PRINTED BY HAND IN SCOTLAND