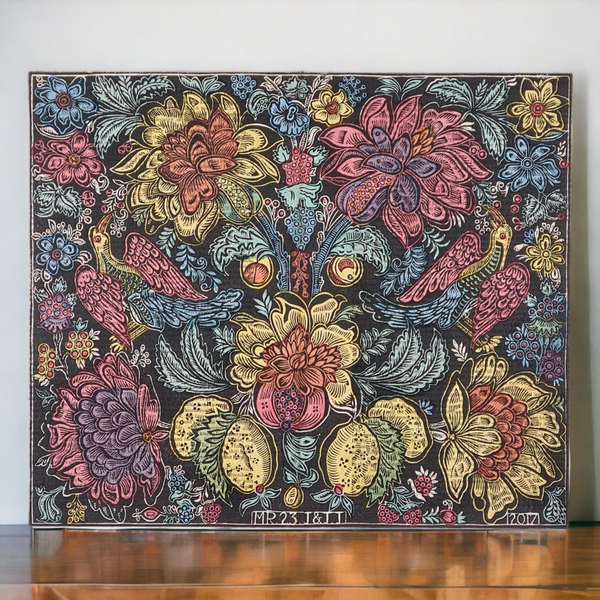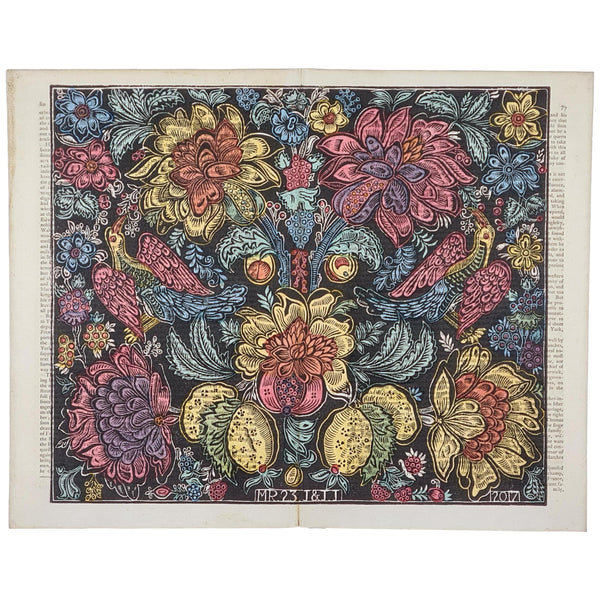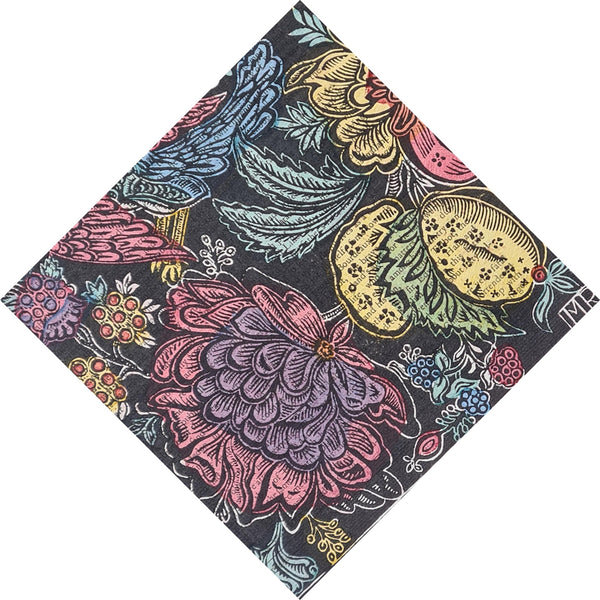 FANCY: No.23 Mirrored Birds & Flowers (black)
Mirrored birds in a garden of flowers of many colours. 

Suitable for framing and the paper crafts - bookbinding, box covering and lining.
Made By J&J Jeffery
This extraordinary print is made from one hand cut lino block, printed in black ink and each of the many colours added by hand.
Please note that the main "in situ" photograph of this print shows the print without its border.  
Print: Relief Printed and hand stencilled.
Relief printing is where a printing block or plate has ink applied to its non-recessed surface which is brought into contact with paper. When pressure is applied, the non-recessed surface will leave ink on the paper, whereas the recessed areas will not. 
Stencilling - A stencil is made by cutting out the required shapes in a heavy oiled cardstock to match the area where added colour is desired. An translucent ink is dabbed over the hole in the stencil leaving the colour making a multiple coloured, highly decorative print. 
In this instance, multiple stencils were made to apply the extra colours to the main black print colour.
Print Size (excluding border): Large, 15½ x 13 inch, 395 x 330mm 

Total Size (including border): 20½ x 15½ inches, 520 x 390 mm (approx)
Block: Hand cut lino
Print: Lino print in black, hand coloured.
Lino Block: No.23
Print Size: 15¼ x 13 inches, 390 x 327 mm (approx) 
Paper: Handmade antique linen rag, text printed paper - 18th or 19th century.
Uses: Suitable for bookbinding, box covering and lining, picture framing, furniture and the general paper crafts -  it works well on books and boxes of all sizes.
Made By: J&J Jeffery
PRINTED BY HAND
 

IN SCOTLAND