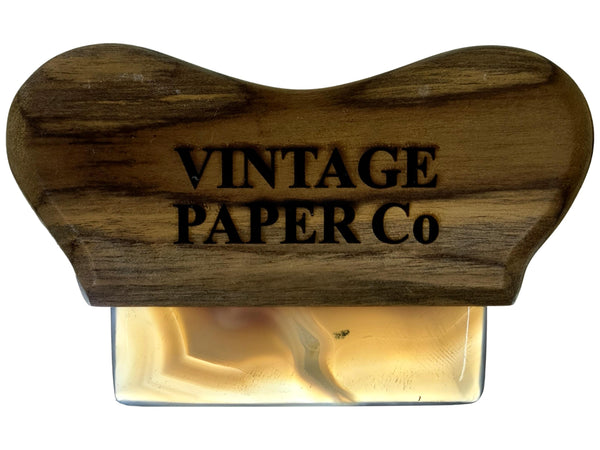 VPCo XL Agate Burnisher v4 #25
Fourth Production Run XL Burnishers
The VCPo XL Agate Burnisher is a tool used to polish and smooth paper with a matt surface to a high sheen, glossy surface. 
Please note - the image shows the individual burnisher. As each handle and stone has its own unique visual properties. Please also note that the stone has been backlit. Under normal light the stone will appear less detailed.
The fourth production (v4) burnishers share exactly the same properties and specifications of the first production run issued in February 2022. 
Free Shipping to UK, EU, USA. CANADA, NZ & AUSTRALIA

Shipping to the rest of the world £12
Every burnisher is handmade - each handle and stone unique.
Specs:
Hand-carved Brazlian agate polishing stone - 4 inches 10cm wide
Teak wood
Deep carved logo grip
Protective soft cotton bag made with VPCo fabrics
5 yr guarantee*
A burnisher is a handmade tool used to polish paper from a matt to a high gloss. This adds both an attractive finish to the material as well as a tougher surface which reduces the chances of damage during handling. It can also be used on leather, vellum and book cloth.
Storage Sleeve
When not in use the XL Burnisher should be kept in its sleeve to ensure best protection for the stone.
The fourth production run of the VPCo XL Agate Burnisher is supplied with fabric sleeves made with our own exclusive fabrics and sewn right here in Stromness. The fabric designs vary but all are stunning! 
Lifespan Of The Stone
Agate is a very strong stone and resistant to wear and tear and day-to-day knocks. However accidents do happen... With this in mind we've shaped both long sides of the stone so that if the first side receives damage it can easily be taken out, flipped over and reinserted. In the unlikely event that the second side of the stone is damaged we will be able to offer a regrinding or replacement service.
The VPCo XL Agate Burnisher is supplied with a protective cotton bag and a 5 year guarantee. Due to the very high build quality we firmly believe that this handmade tool will last a lifetime of normal use.
*5 year normal use guarantee. Excludes accidental damage and is on a "return to seller" basis. We reserve the right to physically inspect, mend, replace or refund at our discretion. This guarantee is in addition to your normal statutory rights.