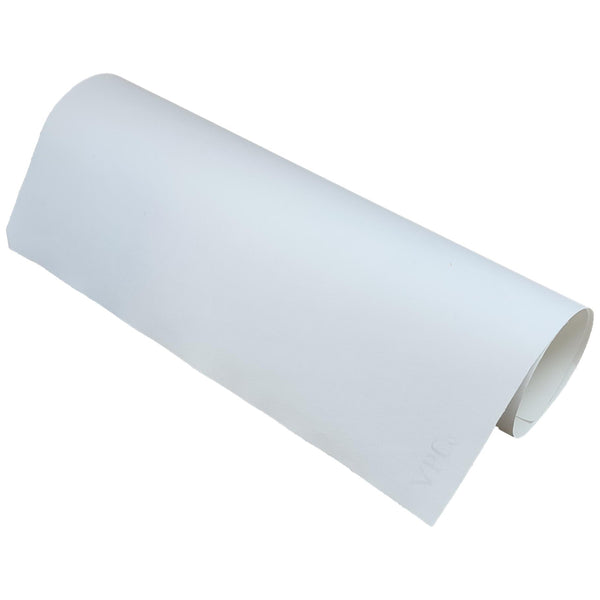 VPCo Handmade: Soft White Wove (text weight)
Handmade paper for printmaking, bookbinding & drawing.
VPCO Crown is a European made paper crafted for us and for people like us who need a high quality multi-purpose paper at reasonable prices.
Properly made using just cotton and linen rag fibres, VPCo Handmade is a characterful and robust paper perfect for general use in the following areas:

PRINTMAKING
Letterpress, screen printing, digital, marbling, paste printing and more
BOOKBINDING
Printed covers, endpapers, pages
DRAWING
Inks, pens, pencil, paint. watercolour brush pens, oil pastels, Conte, graphite, chalk
All VPCo Handmade Paper is acid-free with no grain direction. 
Choose 10, 40 or 100 sheet packs
Colour - Soft White
Fibre - 60% cotton, 40% linen
Surface - Smooth surface, Wove (no lines within the sheet)
Weight - 120gsm +/- (medium text weight)
Sizing - Internally sized with AKD/Aquapel 
Size - Minor Royal (42 x 59cm, 16 x 23 inches)
Grain Direction - None
Watermarks - "Vintage Paper Co", "Handmade" and an "L" signifying a high linen content
USES
Traditional printmaking (letterpress, screen printing etc), drawing (pencil and ink), bookbinding (printed covers, end papers, pages), some digital print, marbling. 
Lettpress print on VPCo Crown Soft White 120gsm wove handmade paper.
Both shades of VPCo Crown Handmade Paper - Soft White & Vintage White