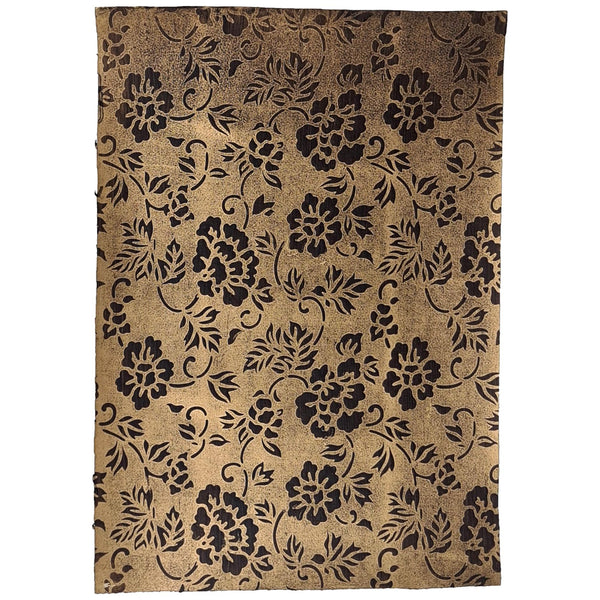 Floral Katagami (gold on walnut)
Katagami Flowers - Gold on Walnut
Suitable for bookbinding, box making, picture framing, furniture decoration and the general paper crafts.
Katagami are antique Japanese paper stencils from the 1800s which were used to apply patterns onto kimono and scarf material using indigo and other natural dyes. 
VPCo owns a huge collection of Katagami stencils which we use to create letterpress printing plates to make new prints of traditional Japanese designs and patterns.
Print: A two process print; relief printed in metallic gold over a hand painted background.
Relief printing is where a printing block or plate has ink applied to its non-recessed surface which is brought into contact with paper. When pressure is applied, the non-recessed surface will leave ink on the paper, whereas the recessed areas will not. 
Size: 18¼ x 11¼ inches, 460 x 290 mm.
Block: Polymer.
Paper: VPCo Handmade Paper; 120gsm, 60% cotton 40% linen, acid-free, no grain direction.
Ink: Oil - Metallic gold.
Background: Studio-made walnut dye paint.
Published: July 2022.
Qty Available At Publication: 6
Press: Early 1900s Gem Proof Press.
Made By: William McCracken.
PRINTED BY HAND
 

IN SCOTLAND