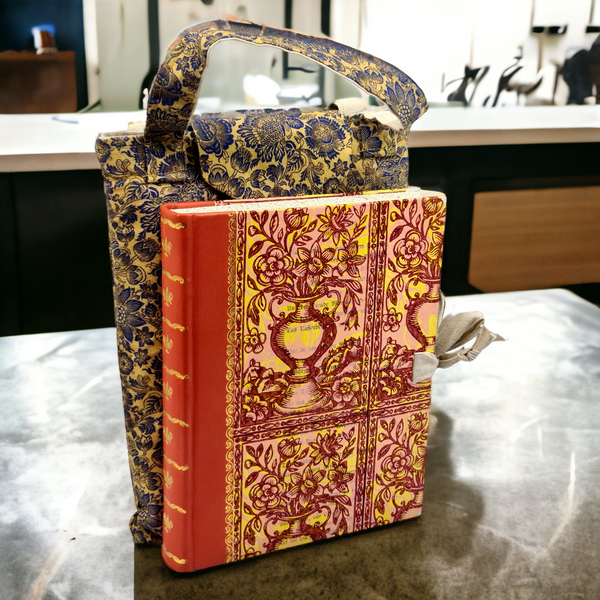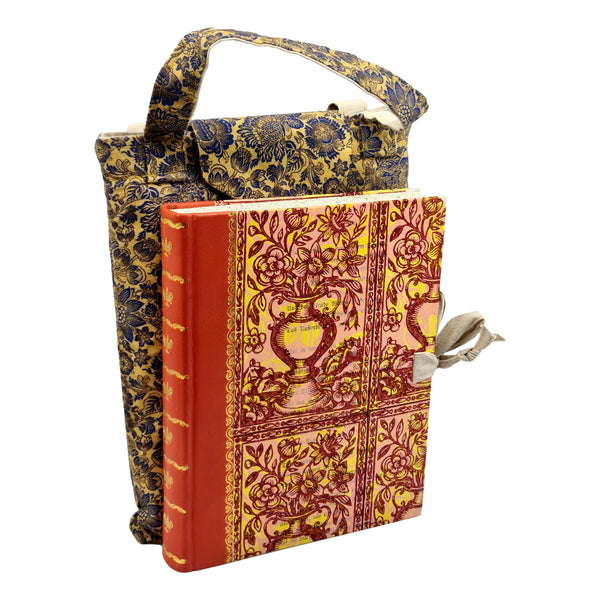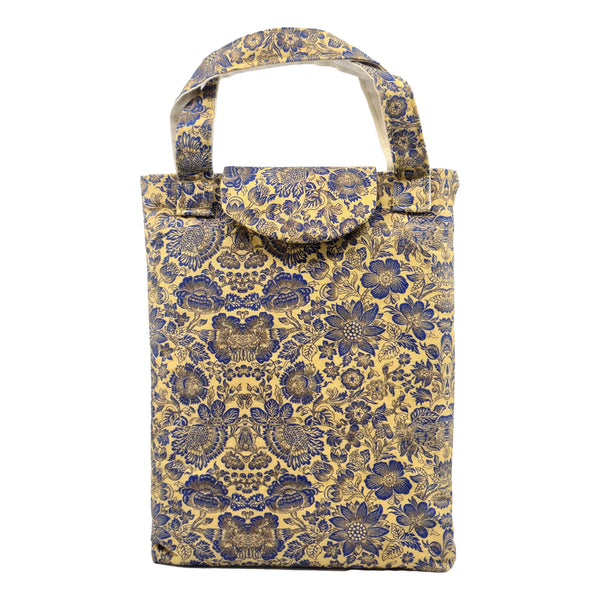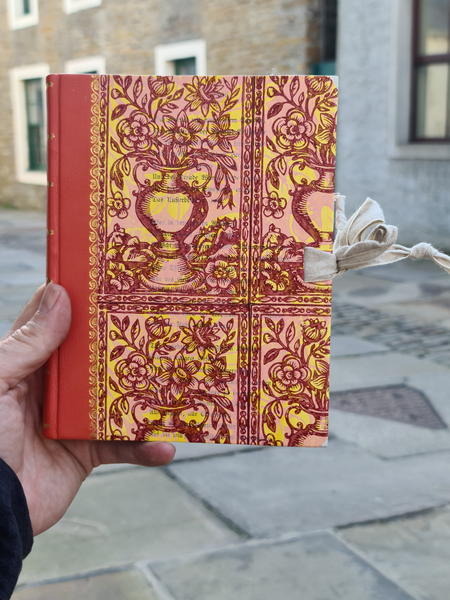 Travel Journal No.71
For writing & drawing
One of a series of seven paper, leather and vellum bindings housed in a handmade bespoke fabric book bag.
Completey handmade in our signature style, this stunning binding combines beautiful materials, practicality, traditional craftsmanship, and our obsession for the properly made.
DESCRIPTION
THE BINDING
This LayFlat binding (7¾ x 6") is bound in gold tooled leather, antique vellum and hand printed paper. 
The front and rear are covered with a complex, hand printed lino relief printed decorative paper, in this instance, No.71 - Flowers and Vase
THE SPINE
The leather spine is tooled in genuine gold leaf using a variety of antique hand tools.
VELLUM TIPPED CORNERS
The corners of this binding are tipped using antique vellum/parchment taken from antique legal documents. We tip corners for two reasons; firstly it looks great, secondly it offers a level of protection to the books when in transit, reducing the chances of damage and maintaining its good looks for many years. 
LINEN TIES
Each of the bindings in this series of seven features linen ties, used to keep the book closed in transit
THE PAPER INSIDE

Inside are 234 blank pages of 130gsm, acid-free, British made smooth cartridge paper suitable for writing and drawing. It accepts inks and pencils beautifully. 
The edges of the book block are sprinkled in ink for decorative purposes.
SIZE
Measuring 7¾ x 6 inches, 200 x 155 mm (approx), similar to European A5 (5.8 x 8.3 inches) this is the perfect travel size, large enough to comfortably work with, small enough to carry around.
LayFlat STRUCTURE
An important feature our books share are their ability to open flat and more!
If you choose, the structure of the book will allow you to open the book totally! This is quite handy for one handed operation. 
THE BAG
This beautiful binding is housed in a bespoke bag, handmade for this binding, right here in Stromness. 
The designs are taken from various fabrics we've made using our archive of printed decorative papers. In this instance the pattern is Ausberg, taken from a VPCo relief print. Each bag is lined with a plain natural white linen and a VPCo woven label, 
DETAILS
LayFlat design

 

- allows this book to open fully without causing any structual damage making it completely usable in the field or studio for years.
Covers - Lino relief hand printed paper
Foredges - Deckled and ink sprinkled
Endpapers - Plain
Paper Inside

 

- Smooth cartridge for writing and drawing
Page Count - 234
Size-

7

¾

 x 6 

inches, 200 x 155 mm (approx)
Made By - John Jeffery
HANDMADE IN SCOTLAND TO THE HIGHEST STANDARD

Every Properly Made Book is unique - VPCo never makes the same book twice.
CREATED OVER A PERIOD OF MONTHS, NOT DAYS.
FREE WORLDWIDE SHIPPING